Let the party begin with our range of costumes specifically for Yorkies and small dogs!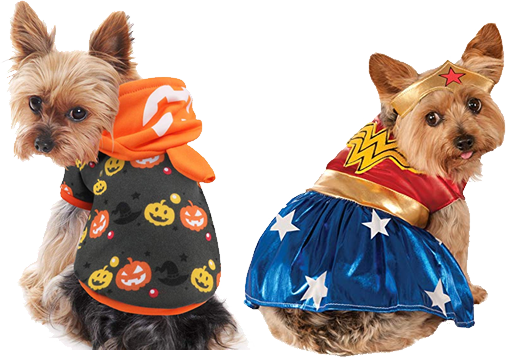 FREE SHIPPING
Free shipping on all orders from USA.
SECURE ONLINE PAYMENTS
Paypal and all major cards accepted.
100% SATISFACTION GUARANTEE
Our customers come first!
Can you picture your little Yorkshire terrier looking any cuter? It's not easy. The only way to make them look cuter is to dress them up in adorable costumes. If you're shopping for the highest quality Yorkie clothes and doggy costumes around, then you have found the best place online. We're an online retailer that gives Yorkie owners many options in first-rate canine costumes.
Our costumes cover all of the bases. If you want to dress your Yorkie up as a tough FBI agent, we have great options for you. If you want to dress your Yorkie up as a delicate ballerina, we have superb choices for you as well. Yorkies look amazing in tutus!
Portable Foldable Pet Play Pen

$65.00 $44.99
Exercise pen / kennel + carry case for Large or small dogs. For both indoor or outdoor use. Water Resistant. Protected seams and reinforced corners.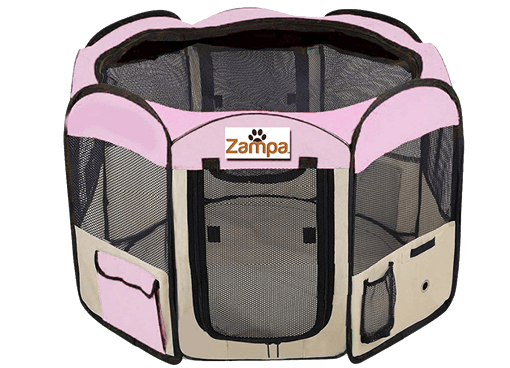 Buy Yorkie Customes Online
Buying small dog costumes that are of superb quality doesn't have to cost owners an arm and a leg. If you're searching for economical Yorkie costumes, there's we are the best shop on the web for Yorkie Accessories. Our prices are unsurpassed. You can look and look and you won't find better deals than the ones we have waiting for you here. Our available small dog costumes are durable and sturdy, too. Although our costumes are budget-friendly, they feel luxurious and like they cost a fortune. We sell costumes that are made using the best and most resilient materials around. It doesn't matter if you want to dress them in a Yorkie Halloween costume. It doesn't matter if you want to dress your adorable four-legged friend up as Santa Claus or as a beautiful princess, either. Our store can provide you with options that epitomize outstanding quality.
We're a yorkie clothing store that's known for incredible customer service. If you have any questions about any of our products, we'll answer them for you in significant detail. We can answer any and all of your questions that involve materials, size, features and more. If you're looking for dependable waterproof costumes for your Yorkie, we can help you find them easily and swiftly.
We sell costumes that can accommodate all varieties of occasions. Owners who want their Yorkshire terriers to turn heads at Halloween parties and parades can turn to us with our Yorkie Halloween costumes. Owners who want their pooches to steal the show at holiday gatherings in general can turn to us.
Buying guide: what to consider when buying dog costumes
Buying guide: what to consider when buying dog costumes
If you share your life with one or more dogs, I am sure that they are much more than just pets for you: they are one more member of the family, they are your most faithful companions, and you love spending time together and sharing as many activities as possible. So when dates like Halloween or Carnival are approaching , more and more people are deciding to involve their furry in the celebrations, disguising it.
And, currently, we can find all kinds of dog costumes on the market, ranging from fairly simple things, consisting of a simple coat or sweatshirt with hoods and prints of different characters, to much more elaborate things, which include up to wigs and various accessories.
The truth is that the topic of Halloween and Carnival costumes for dogs is somewhat controversial, since some people think that dressing a dog is something unnatural, that it is uncomfortable for him and only serves for humans to have fun. while at his expense, even calling it an animal abuse.
On the other hand, there are those who think that it is not so bad, and that after all we already put our dogs coats and raincoats, and dressing them up is an innocent diversion that, after all, does not harm the dog.
Throughout this buying guide we are going to talk about the convenience or not of dressing our dogs, and we will see a series of tips so that, if we tell them to dress yours, you can choose the most suitable costume for him, and you can enjoy the party in your company without problems.
Is it convenient to dress up your dog?
If you like dressing up on Halloween, it is quite possible that you would like to dress up your dog and go out and have fun in his company, but… will your dog think the same?
Obviously, our furry  friends do not understand anything about costumes, or the various parties and celebrations that we humans have, and surely they have a different concept from ours of what is fun; However, they love to spend time in our company, so they may accept with resignation that we put on a costume if they see that we are happy and pay attention to them.
That said, each dog is different: while some allow themselves to be manipulated with total clamness, and it seems that they do not care that you put on the most spectacular costume, others will not submit or put on a simple T-shirt, and they will bite it trying to take it off as much as they can.
If your dog is used to putting coats, raincoats, etc, you shouldn't have much trouble convincing him to wear a costume; but, if you don't usually wear clothes, it will be more difficult. The main thing is that you know your dog well and, if you put a costume on it, watch it carefully, to detect any sign of stress. Let's see how to do it.
How to detect if your dog feels stressed by putting on a costume
Dogs communicate with us all the time … the bad thing is that we don't "listen" to them, and on many occasions we are not able to understand what they are trying to tell us. In that they have much advantage over us, since they are much more observant than us, and they bother much more in trying to understand us than we do them.
Let's see some of the signs that will indicate that your dog does not like anything to wear his new costume:
Yawning: If when you put the costume on your dog yawns, especially if he does it several times in a row, he is telling you that he is extremely uncomfortable with the situation. In addition to yawning, you may notice other signs, such as tipping your ears back and turning your head, glancing at you.
Tail Between Paws – This is an unmistakable sign that your dog is feeling stressed, and he is not doing any fun with the situation.
Gasps: If your dog is panting and it is not hot or he has not been exercising, then he is feeling stressed.
He is paralyzed: if when you put on his new costume your dog stands still like a statue, and you do not get him to move, it is obvious that he feels tremendously uncomfortable.
He begins to bite the costume: this is quite evident; If your dog starts chewing on his new costume, or rubbing himself against a wall or the floor, it is clear that he is not happy to wear it, and tries to take it off.
Starts to Whimper: Another quite unmistakable sign that your dog is not happy with the situation.
In short: if your dog shows any of the signs described above when you put a costume on it, the best thing you can do is take it off immediately, since it is evident that he is having a hard time and, with great enthusiasm that you I can disguise it, I'm sure your priority is his well-being.
Not all dogs will accept that you put a costume on them, but, after all, I am sure there are many activities that you can do together to have fun.
But, if on the contrary you do not notice any of the above signs, congratulations: it seems that your dog does not care too much that you put a costume on him and, therefore, he is willing to go out wearing it quietly.
Another thing is what is going to allow you to put it: it is not the same to wear a kind of coat or sweater, than to wear other accessories such as wigs, hats, or even false arms. Each dog will have its tolerance level, and it is essential that you respect it.
Of course, once you go out together in your costumes, pay attention and, if at any time you notice signs of discomfort in your furry, be responsible and considerate, and take it off: do not unnecessarily give him a hard time.
How to choose the right costume for your dog
If you have decided to buy original costumes for dogs , there are certain aspects that it is recommended that you take into account, so that your dog is as comfortable and safe as possible when wearing it. Let's see them.
Choose a costume that is made of a suitable material. If it is not cold where you live and you buy your dog a suit made of fleece or plush, the poor thing will be very hot. If, on the other hand, you live in an area where the temperatures are very low, and your dog has short hair, you may even be grateful for a warm costume.
Make sure the costume is the right size, since if it fits too tightly, your dog will be uncomfortable, and will not be able to move freely. On the other hand, a suit that is too baggy is also not suitable, as your furry could get entangled with it. That is why it is essential that you pay attention to the manufacturer's instructions, and measure your dog well.
Be careful if you choose a costume that has accessories such as beads, plastic inserts, pom poms, etc., since there is a high possibility that your dog is curious about those rare things that you have put on it and it occurs to bite them with the consequent danger to be swallowed.
Many costumes include hoods, hats, caps, or even wigs, something not all dogs are willing to put up with. If yours allows you to put things on his head, make sure that he does not cover his face, and that his eyes, nose and mouth are not covered.
Have fun with your dog!
This is the main thing, that the two of you have a good time practicing activities together. It must be recognized, however, that parties such as Halloween or Carnival are designed for humans. If you want to participate with your dog in a pet parade, or take it to a very crowded place, make sure that it will not feel too overwhelmed.
Of course, the degree of discomfort of your dog will depend on his character, and how accustomed he is to being in places where there are many people.
If your dog is used to walking in an urban environment, with many people and a lot of movement, if you normally take it with you to markets, crowded terraces, etc., it is likely that you can take it to a costume parade without it being a great stress; but if, on the other hand, you normally walk through quiet areas with little traffic, an event of this type could overcome it.
As always, pay attention to the stress signals that your dog may be emitting, and if you see that being in the middle of the whole party is overwhelming you, get out of there immediately and take it to a quieter area: it may not Take part in that parade that made you excited, but you can still have a great time together, seeing the reactions of people when you see them in your costumes.
And so far our review of some of the best yorkie costumes  we can currently find on the market. I hope I have helped you to solve your possible doubts about the convenience or not of dressing up your dog and, if you decide to do so, to choose the most suitable costume for him.
Our goal is to give your little Yorkie the best style he or she deserves! You'll only find the most popular products on YorkieClothing.com
Follow Us If You Love Yorkies!

AMAZON ASSOCIATES DISCLOSURE
Yorkie Clothing is a participant in the Amazon Services LLC Associates Program, an affiliate advertising program designed to provide a means for sites to earn advertising fees by advertising and linking to Amazon.com