When it's time for "Night! Night!" our selection of small dog pajamas will keep them warm and snuggly!
FREE SHIPPING
Free shipping on all orders from USA.
SECURE ONLINE PAYMENTS
Paypal and all major cards accepted.
100% SATISFACTION GUARANTEE
Our customers come first!
Apart from the usual Yorkie clothes we present a range of lovely warm and snuggly Yorkie pajamas! It is possible for your Yorkie to sleep in full comfort feeling clean, comfortable and of course warm when the temperatures are extremely cold, and that is where our Yorkie pajamas are our best ally. Although today they demand a trend where dogs wear clothes in their day, a pajama also tends to make it ideal for their night comfort since it not only gives it softness and comfort while sleeping but also protects it from those cold nights.
In general, dog pajamas are very breathable to prevent heat from building up, especially when their fur is abundant, your pet will look gorgeous our range of colorful and peculiar pajamas.
Portable Foldable Pet Play Pen

$65.00 $44.99
Exercise pen / kennel + carry case for Large or small dogs. For both indoor or outdoor use. Water Resistant. Protected seams and reinforced corners.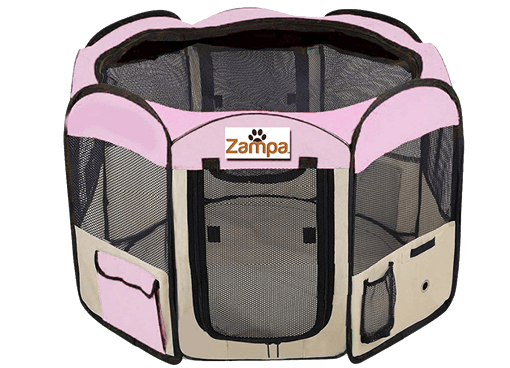 About Our Pajamas For Small Dogs
A pajama or onsie is a garment that completely covers the pet, leaving its tail and legs free, although the latter is also covered in many designs. It will be made of soft, breathable and quality fabric, it will never irritate the animal's skin, it will be robust or prevent it from moving freely while resting, since wearing a pajama will make them feel 100% comfortable.
One of the advantages of wearing pajamas during the night is due to the cold, since like people they can also suffer from cold during that winter and snow season, they will also seek cleanliness and hygiene in the pet since the dust that, one can pick up during the day will not go into the bedding.
A Quick Guide For Buying Pajamas For Small Dogs
Fabric material: The pajama fabric for our dog should be soft, light and especially breathable, but in turn protect the pet from the cold during those rainy nights. It should be flexible so that the dog can move while resting and easy to wash.
Dimensions: The pajamas must have precise and proper measurements of each dog, for this you need to measure the pet's neck, abdomen, hip and height, so we will buy a garment that fits our dog comfortably.
Design: The design of the clothes must be relaxing, modest and comfortable for the rest of our pet, its closure system must be easily accessible so that when it is removed it is not annoying for them. In addition the pajamas must have a hole in the back of the pet, so they can do their needs without any inconvenience.
Cleaning: The pajamas must be able to wash often without breaking easily, stretching or on the contrary in catching, since this way we take care of the good hygiene of our pet, eliminating bad odors, dirt and fur detached during the night.
Our goal is to give your little Yorkie the best style he or she deserves! You'll only find the most popular products on YorkieClothing.com
Follow Us If You Love Yorkies!

AMAZON ASSOCIATES DISCLOSURE
Yorkie Clothing is a participant in the Amazon Services LLC Associates Program, an affiliate advertising program designed to provide a means for sites to earn advertising fees by advertising and linking to Amazon.com