Best Automatic Dog Feeders
Browse our selection of automatic dog feeders for sale. Suitable for small or large dog breeds and of course…YORKIES!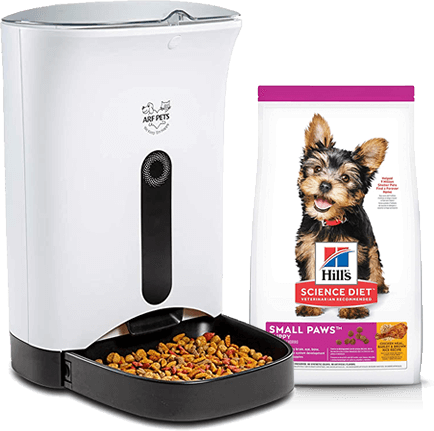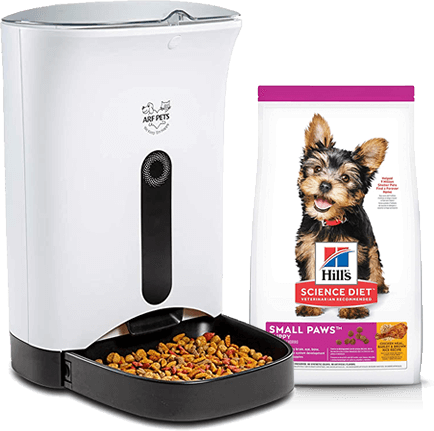 Best Automatic
Dog Feeders
Browse our range of automatic dog feeders for sale. Suitable for small or large dog breeds and of course…YORKIES!
FREE SHIPPING
Free shipping on all orders from USA.
SECURE ONLINE PAYMENTS
Paypal and all major cards accepted.
100% SATISFACTION GUARANTEE
Our customers come first!
Both dogs and cats need to be fed regularly and constantly, ideally always at the same time, since, after all, these are animals that feel much more comfortable when we stick to a routine, so they know what to expect. In fact, they seem to have an internal clock that alerts them when it's time to eat, or go for a walk.
Unfortunately, with our busy lives, it is not always easy to follow a certain routine, and sometimes it will be impossible for us to be home on time to give our feed to our furry.
In these cases, an automatic feeder for dogs can be a lifesaver, since, once you have programmed it, you can be sure that your four-legged companion will always eat on time, even if you are not present .
No Results Found
The page you requested could not be found. Try refining your search, or use the navigation above to locate the post.
Portable Foldable Pet Play Pen

$65.00 $44.99
Exercise pen / kennel + carry case for Large or small dogs. For both indoor or outdoor use. Water Resistant. Protected seams and reinforced corners.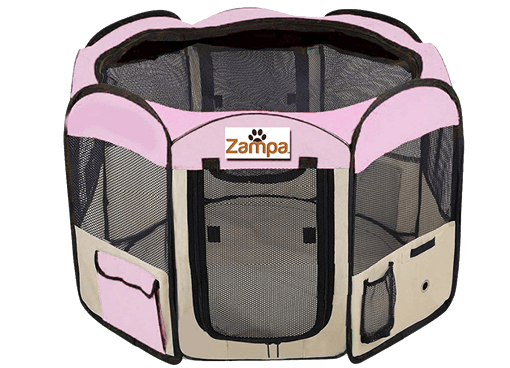 Buying guide: Automatic Dog Feeders
Why buy an automatic feeder?
Automatic feeders for dogs can be very useful if we spend many hours away from home and want to ensure that our pets will not be lacking their food. They will be especially useful if, for example, you work shifts and want your furry to eat at a certain time.
They are also a great tool for those who need to control the weight of their pet, and the exact amount of feed they eat each day, by being able to program food portions, especially in the case of electronic automatic feeders, which allow us to program them and , in this way, keep an exact control of the daily ration.
In these cases, it can be extremely useful to have an automatic feeder, as well as an automatic fountain or drinker , since you can leave with the peace of mind of knowing that your Yorkie will not be short of food or water at any time.
To finish, an automatic pet feeder can be a good tool in case you have a dog with a disease that requires strict control of food, such as diabetes, for example, since you can program it to dispense it the exact ration you need daily.
Factors to consider when choosing an automatic feeder
If you have decided to buy an automatic feeder for your dog, there are a number of factors that you should take into account, in order to get the most suitable for your situation. Let's see some of them.
Security
It is important that the automatic feeder you choose is safe, in the sense that it is not possible for your dog to break or open them to access the food they contain, while you are not there. For this reason, it is better to opt for a feeder made of good quality materials, with good closing and sealing systems.
Automatic mechanical or electronic feeder?
As we have seen in this article, we can find fairly simple automatic feeders, which work mechanically, while we also have the option of getting an electronic one.
The automatic mechanical feeders run on batteries, by means of a timer, which you can program so that the feeder opens at the time you want. They have the advantage that they can be used indifferently for wet food or feed, but on the other hand, they have a fairly small capacity, so they are usually only useful for small dogs, and to dispense few servings of food.
Electronic models are more sophisticated than mechanical ones, and have a more or less large tank (depending on the model). They have the advantage that you can program the exact ration of food that you want to drop each time, the number of times you want it to be dispensed, and also the exact time. The downside is that they are not suitable for wet food: they are only useful for serving feed.
Normally these feeders are more expensive than mechanical feeders, and work by plugging them into the current, although they usually also have the option of running on batteries, something that comes in handy in the event of a power failure.
Programmable food portions
If you need to control the weight of your dog, a programmable automatic feeder will come in handy , as it will allow you to accurately control the amount of feed you will eat each day. Choose a feeder that allows you to program the sizes of the feed portions, and this way your furry will not eat more than he should.
Storage capacity
Depending on how many dogs live with you, their size, and how long you are going to be away from home, the amount of food you will need to store in the feeder will vary. Take all of these factors into account before deciding which type of automatic feeder to buy.
Ease of cleaning
Occasionally you will have to do a thorough cleaning of the automatic feeder, so I recommend that, when choosing one, take into account whether it is easy to assemble and disassemble it, to wash its different parts.  In many cases it is possible to remove the tank, as well as the bowl or tray into which the feed falls. Some models are even dishwasher safe.
Extra features that can be very useful
If you choose to get a smart automatic feeder , you can count on some extra functions that can come in handy in some cases. For example, there are feeders that allow you to record a voice message, so that every time you dispense food, your furry will hear you call him.
Also very interesting are those that work by associating them with your dog chip, so that they only open when they want to eat. These models are especially useful when you live with more than one dog and some of them need a special type of diet for health reasons.
FAQ: Frequently Asked Questions About Automatic Dog Feeders
What is an automatic feeder and how does it work?
An automatic feeder is a device that automatically dispenses food for our dogs and also allows us to program an exact ration and the time at which we want it to be available to our furry.
Can an automatic feeder be useful for my Yorkie?
These types of programmable feeders can be really helpful in some circumstances. For example, they are ideal if you spend many hours away from home, especially if you work shifts and are not always at home when giving food to your dog, since you will be sure that they will have their serving of food at the right time, whether you are or not.
They are also ideal for animals that require control of their feeding, either because they are overweight or because they suffer from some type of disease, since they allow them to be supplied with the exact ration they need, at the exact time they must eat it.
Can I give my Yorkie wet food with an automatic feeder?
If possible. There are some automatic feeders with mechanical systems, which operate by means of a timer and which can be programmed to open at a certain time. This type of automatic feeders are suitable for both feed and wet food.
You must bear in mind, however, that their capacity is not as large as that of electronic automatic feeders, so they will serve you to dispense only a few servings of food (in fact, in the case of some models, only one ration).
How is an automatic feeder programmed?
It depends on the model you choose. If it is a mechanical type automatic feeder, they usually have a timer; However, if you opt for an electronic automatic feeder you can program it more precisely, determining the exact times and rations that you want to fall each time. In any case, it is best to follow the exact manufacturer's instructions.
How can I get only one of my dogs to eat from the automatic feeder?
If you have more than one pet at home, and you want each one to eat their food ration, and not that of their "brothers", you can choose an automatic feeder for dogs with a microchip, such as the SureFeed, which only It opens when the animal that has the implanted microchip associated with the feeder approaches.
It is a great option for the dog not to eat the cat's food (and vice versa), or for an animal that needs a specific diet and you want to make sure that only he has access to it.
And so far our review of the best automatic feeders for cats and dogs that we can currently find on the market. I hope I have clarified the doubts that you might have about this type of feeders, and have been helpful for you to choose the model that best suits your needs and those of your furry.
Our goal is to give your little Yorkie the best style he or she deserves! You'll only find the most popular products on YorkieClothing.com
Follow Us If You Love Yorkies!

AMAZON ASSOCIATES DISCLOSURE
Yorkie Clothing is a participant in the Amazon Services LLC Associates Program, an affiliate advertising program designed to provide a means for sites to earn advertising fees by advertising and linking to Amazon.com