Browse our large range of dog grooming tables for sale. Suitable for small or large dog breeds and of course…YORKIES!
Browse our large range of dog grooming tables for sale. Suitable for small or large dog breeds and of course…YORKIES!
FREE SHIPPING
Free shipping on all orders from USA.
SECURE ONLINE PAYMENTS
Paypal and all major cards accepted.
100% SATISFACTION GUARANTEE
Our customers come first!
When you live with a dog, it is essential that you take proper care of his hair; this includes regular brushing and bathing, and, for a long-haired breed, the occasional cut.
Of course, taking it to a dog groomer is a good option, but if you prefer to be the one who takes care of your dog's hair at home, and you want to do it efficiently and comfortably, you are going to need a dog grooming table.
Portable Foldable Pet Play Pen

$65.00 $44.99
Exercise pen / kennel + carry case for Large or small dogs. For both indoor or outdoor use. Water Resistant. Protected seams and reinforced corners.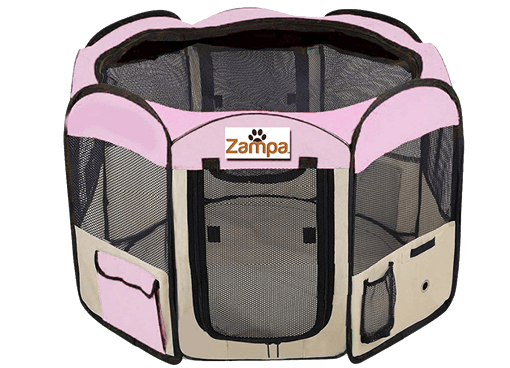 Buying guide: how to choose the most suitable dog grooming table for your needs
Why buy a dog grooming table?
If you have decided to choose to take care of your dog's hair yourself, it is highly recommended that you purchase a dog grooming table .
And it is that, while it is true that it is possible to dry, brush and cut your dog's hair without a table, I do not recommend it: yes, you can place your dog on the floor, or even upload it to a normal and ordinary table , but the most likely is that you end up with a good back pain, because surely you will have no choice but to bend down and adopt inadvisable postures.
In addition to the consequences for your lower back, cutting your dog's hair on the ground, or even on some furniture that is not specially designed for this task, is not the best thing for your dog either.
And it is that neither you nor he is going to be comfortable in an unsuitable position, and for this reason it is very possible that there are areas of his body that you do not see as well as would be desirable, or that you find difficult to access, which, At best, it will cause you to stumble your dog a few times, and, at worst, you may even harm it.
On the other hand, not using a proper dog grooming table can also pose a danger to your dog, since it will be more difficult for you to maintain a proper posture and not move.
The dog grooming tables include leashes that allow you to hold your dog, and also have non-slip surfaces. All this means that your canine friend does not slip or make sudden movements, which obviously has an impact on his safety and comfort.
Types of dog grooming tables
In the market we can find a large number of dog grooming tables to choose from, ranging from the simplest to the most sophisticated; But, before making a decision, the first thing we must be clear about is that, basically, there are three types of tables. Let's see the characteristics of each of them.
Folding canine grooming tables
They are the cheapest and have the advantage that when you finish using them you can fold their legs and store them, without taking up much space. This makes them very practical to use at home. They are also easy to transport, since they are quite light.
As a drawback, there is the fact that its height is not adjustable, so it is possible that it will be higher or lower than it would be comfortable for you.
Hydraulic canine grooming tables
They are more expensive than folding tables, but also more robust and resistant, and they have the advantage that you can adjust their height by means of a hydraulic mechanism, generally by means of a pedal or lever.
In this case we are talking about tables much heavier than the folding ones, and they are designed to have them in a fixed place, so, if you do not have much space or if you dedicate yourself professionally to canine aesthetics at home, it may not be a question the best option for you.
Electric canine grooming tables
This type of dog grooming tables are the most comfortable, but also the most expensive. Like the hydraulic tables, their height is adjustable, but in this case we will only have to press a button until we reach the position that is most comfortable for us.
These are professional quality dog ​​grooming tables and you should place them in a fixed place, near an outlet, so they are ideal for those who have a dog grooming establishment and want to get the most comfortable and suitable material.
Factors to consider when choosing a dog grooming table
The most suitable dog grooming table for you will be the one that best suits your particular needs, as well as those of your dog, since a small dog is not the same as a large one, or a calm one that is nervous and restless. However, there are a number of specific factors that you must take into account when choosing. Let's see them.
Size of your dog
This is something to keep in mind when buying a dog grooming table . If your dog is small you will not have any problem, but if we are talking about a dog of considerable size and weight, things change.
Look closely at the dimensions of the work surface, so that your dog fits comfortably in it, without danger of falling.  Likewise, you should also make sure that the chosen table supports the weight of your dog.
Stability of the hairdressing table
It is vitally important that the chosen table is stable, especially if your dog is rather large and is restless and nervous. It is essential that, even if your dog moves or is shaken, the table remains firm and does not move, so it is a good idea to choose one that has robust legs, and whose base is non-slip, so that there is no danger of it slipping on the floor.
Height of the dog grooming table and clamping arm
Properly trimming and grooming a dog takes a long time; that's why it is essential that while you do it, both you and your dog are comfortable. If the height of the table is not adequate, it is very likely that you will have to stoop while you are working.
In this sense it is very useful to have a height adjustable table, either hydraulic or electric. In the case of folding tables, whose height is usually fixed, you will have to keep this fact in mind when choosing.
As for the support arm, it is important that it be possible to adjust it to the necessary height so that your dog can be in a comfortable position for its size, allowing it to be able to change its position at all times when necessary.
Dog grooming table should be safe for your dog
When choosing a dog grooming table , it is vitally important that it has a series of characteristics that guarantee the safety of your dog. In addition to having a structure that provides the necessary stability, you must ensure that the work surface is non-slip, so that your dog does not run the risk of slipping and falling.
Of course, it is also essential that you have a holding arm that allows you to secure your furry well, preventing it from making a sudden movement, especially when you are cutting your hair in delicate areas, such as the face.
Space you have
This is another factor to keep in mind when choosing the most suitable dog grooming table . If you live in a big house, and you have enough space, you can choose a hydraulic or electric dog grooming table. But if, on the contrary, your space is limited, it will be better to buy a folding table, since that way you can store it when you do not use it.
And so far our review of some of the best dog grooming tables  that we can currently find on the market. I hope I have helped you to resolve any questions you may have about these tools and to find the one that best suits your needs and those of your dog.
Our goal is to give your little Yorkie the best style he or she deserves! You'll only find the most popular products on YorkieClothing.com
Follow Us If You Love Yorkies!

AMAZON ASSOCIATES DISCLOSURE
Yorkie Clothing is a participant in the Amazon Services LLC Associates Program, an affiliate advertising program designed to provide a means for sites to earn advertising fees by advertising and linking to Amazon.com